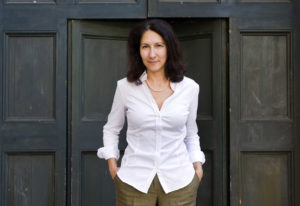 Farian Sabahi (1967) is senior researcher in Contemporary History, Insubria University (Varese and Como). In the second semester of the academic year 2022-2023 she will teach International Relations of Eastern Europe and the Middle East (the course will start 20 February and will be in Italian).
She holds a degree in Business Administration (Bocconi University, Milan), a degree in Oriental History (Bologna University) and a Ph.D. in History of Iran (School of Oriental and African Studies, London University). Her dissertation was on the Literacy Corps in Pahlavi Iran under Muhammad Reza Pahlavi (1963-79). She later did research in Iran on buy-back oil contracts (for a post-doc at Bologna University, Department of Economics) and on Free Trade Zones in the Persian Gulf (for a scholarship at Bocconi University, Department of Economic History).
Her research is focused on the Middle East, the Caucasus and Central Asia. She has been working with a multidisciplinary approach which takes into account history, economics, religious and cultural aspects, with a special focus on minorities and gender issues. She has lectured at the University of Chapel Hill, Geneva, Baku, Sapienza Rome, Turin, Varese and Como. In Summer 2022 and in the Fall semester 2022-2023 she taught the course (45 hours) History and Politics of Contemporary Iran (PL 359) and Introduction to New Reporting and Writing (DJRN 221-2) at John Cabot University in Rome.
She has many publications in Italian and English. Her last book is Noi donne di Teheran. This volume is composed of three parts: 1) a preface of the protests triggered by the death of Mahsa Amini. 2) The text for the theatre We, Women of Tehran, a text for the theatre available also in English (in paper and ebook). Written and interpreted in the first person from a female standpoint, it illustrates the origins of the Iranian capital and its contradictions, and the rights of religious minorities and women. It showcases women who have played a leading role in various fields, including sports, although all too often they have simply been an element in the propaganda of the regime. This is an animated reading with verses by the great Persian poets and a hefty dose of irony, as a way to smile about complex issues and demolish common stereotypes. "As the mystic Rumi said, 'The truth was a mirror in the hands of God. It fell and broke into pieces. Everybody took a piece of it, and they looked at it and thought they had the truth.' If truth is a mirror broken into pieces, in these pages I have given you only one fragment. The fragment of my Tehran." 3) The interview Il mio esilio with Shirin Ebadi, Nobel Peace Prize 2003.
Her previous books are Storia dello Yemen (Istituto per l'Oriente C.A. Nallino, Rome 2021). Her previous book was Storia dell'Iran 1890-2020 (Il Saggiatore, Milan 2020). She also wrote
As a professional journalist, she regularly contributes to the Italian dailies Corriere della Sera and il manifesto, as well as to radio and tv programmes in Italy (Radio Rai) and abroad (BBC Persian).
In 2019 MAO Museo d'Arte Orientale di Torino hosted her photo exhibition Safar: vite appese a un filo, a journey in a forgotten Middle East (1997-2003).
As filmmaker, she realized the shorts The Children of Tehran (2018, password: bambini) portraying four Polish refugees who during WW2 found shelter in Iran and later moved to Palestine, Out of place (Skytg24, 2009) and Che ne facciamo di Teheran? (Rainews24, 2008). All these videos portray Israelis of Iranian descent or Israelis who spent time in Iran. By doing so, the filmmaker interwines the two countries. She has a leading role in the documentary Minareto mille punti telling the controversial story of the mosque in Colle Val D'Elsa, Tuscany (by Pietro Raschillà, with Edoardo Camurri).
Her father is Iranian, her mother Italian. Farian Sabahi tells her family stories in her book Non legare il cuore. La mia storia persiana tra due paesi e tre religioni (Solferino, 2018). For this memoir, she was awarded the Prize Giuditta in Alessandria, her hometown.
She was awarded the following prizes:
2016 "Con gli occhi di una donna", Lions Club Parma Maria Luigia.
2011 "Valdo Fusi – Torino Libera Award for Free Thought", Pannunzio Centre for Free Thought with the following motivation: "The prize serves to distinguish the most significant figures in the city of Turin. Those who receive the prize are non-conformist free-thinkers endowed with a critical spirit. According to the city's best tradition, such prominent people have looked beyond the Alps, following the example of Alfieri, Gobetti, Baretti, and Cavour, who were the expression of a cosmopolitan, international and European culture. Farian Sabahi finds her rightful place among the recipients of this award. Indeed, she contributed in a scientific and secular war, to the understanding of the Islamic world. Farian Sabahi is an example of culture, freedom, scientific rigor and intellectual honesty. Her international profile honours Turin and its university".
2010 Amalfi Coast Media Award (Mediterranean) for "her success in overcoming cultural diversity and her ability to make a difference"
(http://www.premiobiagioagnes.it/edizioni-precedenti/2010/giuria-e-premiati).
12 April 2010 Prize by Associazione Giardino dei Giusti di Milano. The prize is entitled to Neda Agha Soltan, killed in 2009 in Tehran and symbol of the moral resistance of the Iranian youth and their fight for freedom. The prize was awarded by the mayor of Milan Letizia Moratti and the President of the Committee Manfredi Palmieri.
2004 Premio Mustafà Souhir for the original approach in treating multicultural topics in the media.